An unforgettable adventure!
Learn how to bake in a Greek Village!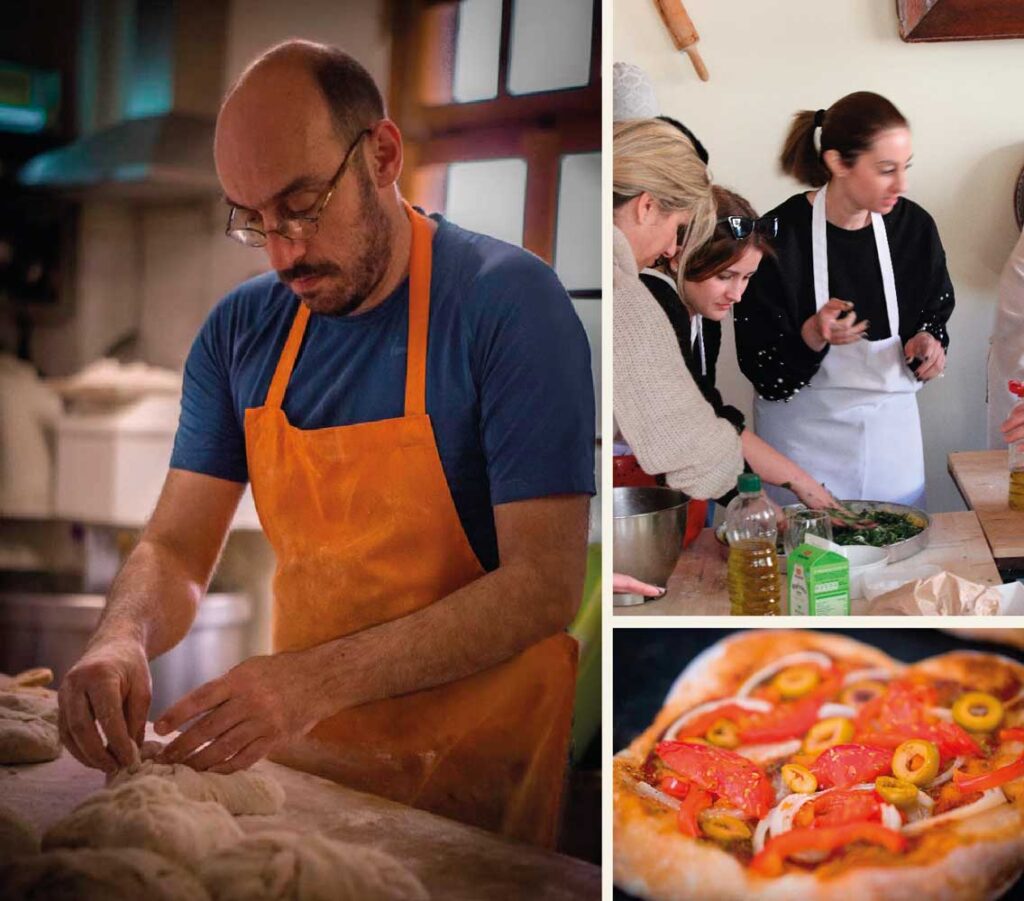 47€ for adults/35€ for kids
From 1 to 20 people
10% discount for groups over 6
Step into our warm, aromatic bakery and join us for a baking and cooking experience you will never forget!! Under the expert guidance of Kostas, a Master Baker and true artist/artisan who has perfected his craft over 31 years, you'll have the opportunity to learn the secrets of traditional Greek recipes and discover the authentic flavors of this enchanting region while being introduced to the vibrant culture and way of life in our charming village.
During this hands-on experience, you will discover the art of crafting authentic local delicacies, including mouthwatering cheese pie, savory spinach pie, and delectable baklava. Kostas will share his expertise and guide you through each step, from choosing the best high-quality and fresh ingredients to tasting the final product.
Online reservations
Place your reservation & join an amazing experience!
Work hours
Winter hours:
Monday – Saturday: 05:30 – 14:30 & 17:30 – 21:00
Summer hours:
Monday – Saturday: 05:00 – 14:30 & 18:00 – 22:00
Unspeakably Good!
Artisanal bakery products handmade by Kostas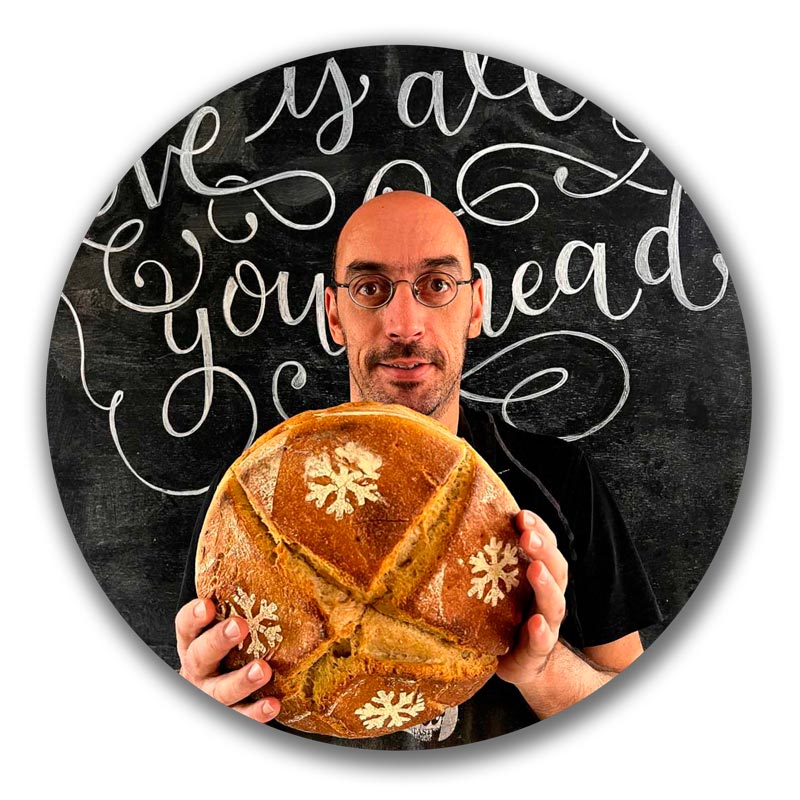 Kostas…
My deep passion for baking is perhaps only surpassed by my love of sharing – sharing baking knowledge, culture, my village, and perhaps best of all, sharing food. My wife Anna & I have hosted over 1,000 people in our home, and always the best times are around the kitchen & baking tables.
My father opened the bakery the day after the old village baker closed. He knew the village needed a bakery and he wanted to set something up for his oldest son for the future. My family already had our sheep farm and vineyard. I started working in the bakery 31 years ago, at first just in the mornings before school. I didn't love it, but over time, I saw how the bakery is the heart of the village – I came to love being able to provide such an important staple to my community. Slowly it became my deep passion and now my art. Every day I create a new!
What our guests are saying
Erez Cohen, Sep.2022
We have been today at Kostas bakery for a traditional baking workshop. We had a great time! Kostas and his beautiful family are very nice and welcoming 🙏. The workshop was an authentic experience, getting to know a bit about the Greek food and tradition. Highly recommended! Thank you Kostas …
link
Tamesha, September 2022
This experience was such a special time for my husband and me. It went WAY beyond what I thought it would be. The hosts Kostas and Anna are amazing at making you feel welcome and comfortable. We were fed so much food… we ate our way through this experience. We were greeted with fresh from the oven bread that had little pieces of chocolate throughout it… the smell and the taste were out of this world! We then were shown how to make a cheese pie and a spinach pie. Costas has learned to make them in a way that is so easy that you can make them easily in 30 minutes. I was excited about this and think I will be able to replicate it at home. The baklava we made was also easy and so yummy. Kostas even gave us suggestions of ways we could switch up the recipe. You can tell he is passionate about baking and loves to express his creativity though his craft. The bakery is also a place for local villagers to have their bread baked in the large oven or even to have food cooked for them instead of heating up their ovens. Today that is what happened. A local family was harvesting grapes and had Kostas cook their meal. When it was lunch time, Anna asked if we would like to go with her to deliver the food to the vineyard, of course we said yes! We were able to meet the dozen or so people that were harvesting and they invited us to eat with them and shared wine and raki. They were so hospitable to us. We may have not spoken the same language, but we had a great time visiting them. If you want an authentic, non "touristy" experience, DO NOT MISS THIS ONE!!!
link
Tamara, June 2023
My family of four, including two teenagers, had a great experience today with Kostas and his family. Kostas is a lovely man with great passion for his bakery and village and for sharing his knowledge with others. We had a hands on experience that was tailored to our preferences and learned a lot about pastry and life in Zitsa. We ended with a wonderfully long, social lunch that was more like lunch with friends than a paid experience. Ask to make the cheese pie with pasta and don't hesitate to book. This was excellent value and we left with enough food for another meal. Thanks so much Kostas and Anna!
Helene, February 2023
This was one of our best experiences. Kostas and Anna beyond amazing, friendly,fun, accommodating to allergy issues and felt like family! I can only hope to have the opportunity to go again and again each time we visit! I feel like they're family!
Ginger, February 2023
This was an amazing experience! My kids enjoyed it (ages 19 and 15) as well as myself and my mother. All ages would enjoy this experience. It's hands on and they make you feel like family. They even drove us to and from the local winery while our food was cooking. Then we came back and had a family style dinner eating the delicious food we made, along with a local wine made from one of their friends. They explained the history of the village and opened their doors to their family. It was so beautiful. They even went out of their way to teach my daughter how to make a dessert she loves. I highly recommend. We entered as strangers but left friends. It was amazing and the best airbnb experience I have ever booked!
link
Stephanie Contomichalos, June 2023
Truly exceptional experience! Kostas and Anna are warm, wonderful and extremely generous people who open up their beautiful bakery and hearts and share a bit of their love with the world. We learnt how to make some delicious pies (and an amazing chocolate cake), we listened to fascinating stories, we sat and ate all together and learnt about local traditions. An experience not to be missed! (The bread is also not to be missed!)
link
Andrew Ayling, June 2022
We did a fantastic cooking experience at the bakery. The drive from Ioannina was a delight as well. We were made so welcome and the fact we were very early was no problem at all. The smell greets you from the street and the array of bread and sweet and savoury treats is impressive. We made sourdough bread and left is rising for the next day's production, we made a pie with local greens and feta, a savoury Yorkshire pudding with feta and we made some sweet coconut filo. A real family affair and we could not have been made to feel more welcome. Book it, it will be a fantastic memory.
link
Zitsa - Our Village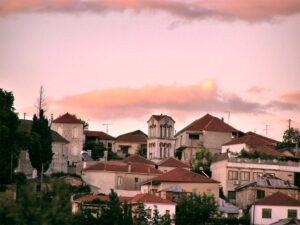 Zitsa truly is a magical place and while we work we can share stories about our different cultures, and life in the village in general (there is a lot to learn about this place and we are more than happy to tell you what makes Zitsa so special and why there is nowhere else we'd rather be!).
We can give you some basic Greek lessons as well if you want!