We can't wait to have you join us!
Ιt is our dream to have the opportunity to give you
an unforgettable experience here in Zitsa and in our bakery!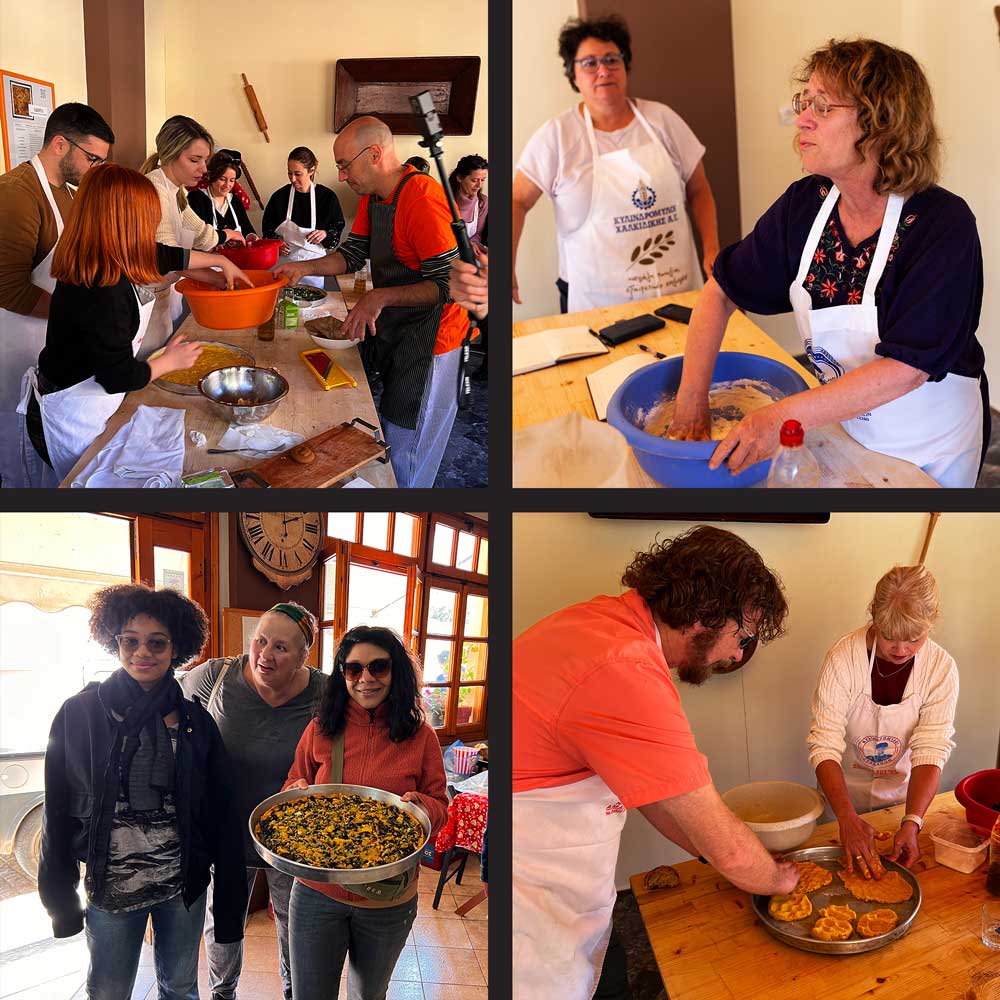 Discover the enchanting village of Zitsa, nestled in the breathtaking northwest region of Greece, and immerse yourself in a truly delightful experience at the Bakery of the Village. This unique culinary haven offers an exquisite 4-hour cooking, baking, and eating adventure where you and your friends, family, or colleagues will unravel the secrets of traditional Greek pies, exclusively crafted in this captivating corner of the country.
Led by Kostas, an esteemed artisan baker, whose expertise and passion for his craft have been honed over an impressive 31-year journey, the bakery is renowned for both its sweet and savory offerings. With a perfect blend of time-honored techniques and contemporary approaches, Kostas takes great pride in delivering unparalleled culinary creations. His unwavering commitment to sourcing the finest ingredients ensures an authentic and unforgettable gastronomic experience. Often the greens used in the pies have been picked that morning from the family farm.
As you step through the doors of the bakery, you'll be warmly greeted by Kostas and his wife Anna, an American who embarked on a life-changing adventure when love brought her to Zitsa more than 12 years ago. Their shared enthusiasm for this charming village and the broader region of Epirus infuses every moment of the experience. Guests are captivated by the heartwarming tale of how Kostas and Anna's paths intertwined, igniting their passion for the bakery and each other.
Zitsa, with its rich history spanning back at least 900 years, is not only renowned for its bakery but also holds fame for its sparkling wine. The prized Zitsa wine, bearing its own European PDO (Protected Designation of Origin), owes its effervescence to the unique Debina grape and a meticulous double fermentation process. The village's 300 inhabitants share a deep-rooted pride in their winemaking heritage, creating an ambiance that envelops visitors with a sense of wonder.  As you will have a break while the last pies are cooking, you may want to visit one of the wineries for a tour and tasting – feel free to ask us for information or to contact a winery for you. 
Apart from the bakery and wine, Zitsa is also exceptional for its closeness to the region of Zagori, an outdoor enthusiast's wonderland. Zagorahoria is a collection of 46 traditional villages, all with the same unique stone and slate architecture, linked by cobbled paths which snake up and down the slopes of the dense green mountains. Zagori is further renowned for the Vikos Gorge, its abundance of beautiful wildlife, and crystal clear alpine rivers. 
During your Bakery experience, Kostas will guide you through the intricacies of crafting authentic Greek pies and sweets that are exclusive to this region and to his family. Delight in the artistry of creating savory treats such as blatsopita and casiopita, savoring the harmonious blend of flavors and aromas that have been passed down through generations.
As you engage in the hands-on cooking and baking activities (be prepared to get dirty while having fun!), Kostas and Anna will regale you with captivating tales of the village's history, their love for this idyllic locale, and the vibrant culture that shapes the Epirus region. The stories unfold amidst the tantalizing scents wafting through the air, creating an immersive experience that transcends the mere act of baking.
And of course, after the work (and play!), you will get to enjoy the fruits of your labor with a sumptuous Greek lunch all together. You will partake in the delicious dishes you have made plus some seasonal salads, local cheeses, fresh bread, Zitsa wine, and the sweet dessert you made to finish it off.
Whether you're a seasoned culinary enthusiast or an aspiring baker, we at the Bakery of the Village in Zitsa welcome you to unlock the secrets of Greek pie-making in an atmosphere of warmth, love, and cultural appreciation. Come and discover the magic that emanates from the union of ancient traditions, modern techniques, and the heartfelt passion of Kostas and Anna.
Work hours
Winter hours:
Monday – Saturday: 05:30 am – 14:30 pm & 17:30 pm – 21:30 pm
Summer hours:
Monday – Saturday: 05:00 am – 14:30 pm & 18:00 pm – 20:00 pm
Your Unforgettable
Culinary Adventure Awaits!
Zitsa - Our Village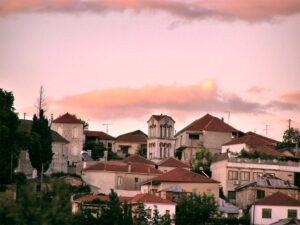 Zitsa truly is a magical place and while we work we can share
stories about our different cultures, and life in the village in
general (there is a lot to learn about this place and we are more
than happy to tell you what makes Zitsa so special and why there is
nowhere else we'd rather be!).
We can give you some basic Greek lessons as well if you want!