Kostas & Anna, the bakers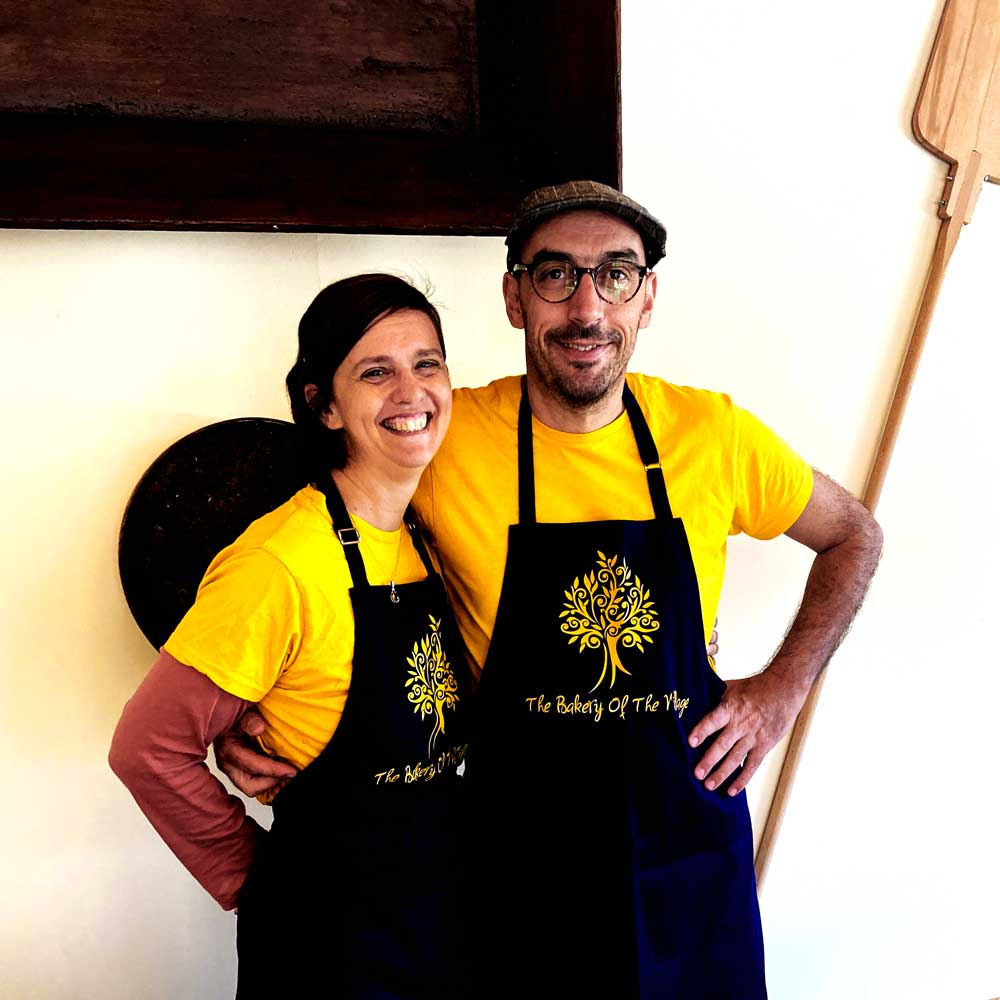 Kostas is an internationally recognized Master Baker who combines his deep love for intuitive baking with a natural are for technical perfection. He is regularly featured on podcasts, in TV and internet documentaries, in print media, and is often asked to teach Master classes.
But the real, solid passion he holds for baking and providing sustenance to his village was not something he was born with. Rather, it was cultivated over many years and at first his work in the bakery was a product of strict necessity. It took time, but eventually he started to feel the magic of the dough and understood subconsciously the opportunity it gave him to simultaneously express both his creative and mechanical sides. It also connected him even more profoundly with Zitsa, and he appreciates how the bakery gives him the ability to literally nourish his village.
Kostas was 16 ½ when his father opened The Bakery of the Village. Prior to the bakery, the family (Kostas, his brother, sister, and parents) relied solely on their 200-sheep farm and garden for income and food. Mornings before school and evenings before bed were spent in the flower-covered pastures and wood barns, tending to the sheep, and helping his parents.
On March 7, 1992, the old bakery in Zitsa closed its doors. Kostas' father, a visionary entrepreneur, saw an opportunity to set up a business for his first-born son and decided to open a new bakery. He started preparations and opened the doors for the first time on Monday, March 9, 1992, which happened to be Clean Monday. On this day, the only bread baked in Greece is an oval-shaped flatbread covered in sesame seeds called a "lagana" (λαγάνα).
In the beginning, Kostas helped his mom and dad, doing deliveries, carrying supplies, and sometimes waiting on customers. He didn't yet feel the pull to create and express himself in dough.
In July 1994, a year after graduating high school, Kostas left for his then-required 18-month army service. All prospective soldiers are asked if they have experience in certain trades, such as baking. Kostas answered "no" as he did not want to do baking in the army since he would return to it when he went home. He wanted to try other things. So he went into communications, which included postal delivery, his favorite activity during his time there.
Read More…
Unspeakably Good!
Artisanal bakery products handmade by Kostas

The bakery of the village
Welcome to our cozy bakery in Zitsa, Greece! Kostas and Anna, a passionate couple, run the show with the help of Kostas's mother who brings in her traditional baking expertise.
We offer hands-on lessons for both adults and children, so you can learn how to make authentic Greek pies and sweets like gingerbread. Come taste our homemade creations and experience the warmth of our family-run business.
Zitsa - Our Village
Zitsa truly is a magical place and while we work we can share
stories about our different cultures, and life in the village in
general (there is a lot to learn about this place and we are more
than happy to tell you what makes Zitsa so special and why there is
nowhere else we'd rather be!).
We can give you some basic Greek lessons as well if you want!